About the Homer Historical Society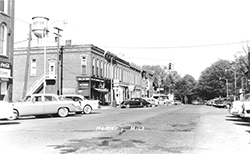 Main Street, ca 1963
First Organized
The Homer's Historical Society was organized as a bicentennial project in 1974 to preserve and protect Homer history, to educate people about the significance of local history, and to establish a museum. The dream of a museum was realized sooner than anticipated when in 1975 Maude Blair donated her family's farm for that purpose.
Blair Historical Farm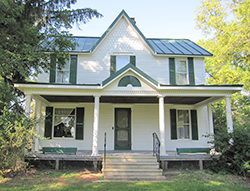 The Blair Farm House Today
The Blair Historical Farm—at 26445 M-60 East, one mile east of Homer on M-60—is a pioneer family farm built on land owned by Maude Blair's grandfather, Dr. George Blair, Homer's first doctor. Miss Blair, a long time Detroit schoolteacher and administrator, was especially interested in having children learn about Homer history. Her sister, Miss Bess Blair, was also a teacher. Now, elementary school students visit Blair Historical Farm every spring to learn about local history and see how people used to live on a farm.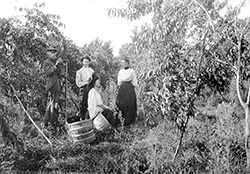 The Albert Blair family in the peach orchard of their much loved farm; date unknown
Renovating the farm is an on-going project. The house reflects the way people lived in the late 1800s and early 1900s. Renovation work in the old barn has provided an office, a display area, and a serving kitchen used during the Society's annual Fall Festival that began in 1976. One outbuilding houses a working sawmill donated by Robert Ackley. The old Albion Town Hall was moved to the farm in 2006 from its original location on the corner of F Drive South and M-99. It provides additional exhibit area and space for meetings and programs. The farm's new 40-foot by 64-foot barn built in 2015 showcases large, antique farm machinery including a 30-foot long Birdsell clover huller.
Supporting the Society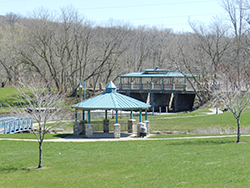 Grist Mill Park, located near the old Grist Mill. Photo courtesy of Robert W. Guth.
The Society raises funds for the museum with its annual fall festival, an herb workshop in the spring, car show at the farm in July, memberships, and other donations.
Learn more about the Homer Historical Society Endowment Fund.
Society Meetings
Meetings are held the last Thursday of the month from January through October. In warm weather they are held at the Blair Farm. Check the Homer Index for up to date information on meeting dates, times and locations.