How Can I Get Involved?
There are many ways that you can be involved with historical preservation in Homer …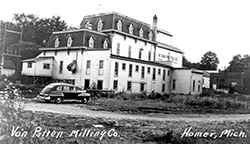 Van Patten Milling Co., later Cortright Milling Co., and the later site of True Grist Ltd. Dinner Theatre
Support
Remember the Homer Historical Society with an annual contribution
Make a gift to our endowed fund through the Homer Area Community Foundation
Think about the Homer Historical Society when making your will


Volunteer
Volunteer to help at an event like the Fall Festival, the Car and Truck Show, Herb Workshop, or a special program
Lend your talent to a restoration or maintenance project
Help in the office
Assist with archival work
Help with the gardens or work in the house



It takes lots of volunteers to make our events a success. The three photos from the left show volunteers at the Fall Festival. The rightmost photo shows some of the Herb workshop fare enjoyed by a full house each year.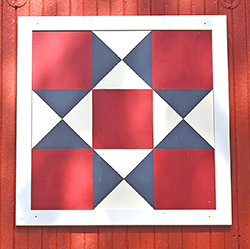 This wooden quilt square was created by artist Becky Malkovich to decorate the side of the Blair Farm barn. Homer Historical Society secretary Dee Camp created the design and color scheme. Barn quilt squares are common in Amish communities, in some parts of the East, and have been replicated in some southwestern Michigan areas.
If you'd like to make one of your own, please call Dee at (517) 524-7348 for information and future class times.
Photo courtesy of the Homer Index
Attend
Attend a board meeting to learn more about the organization and how to be active in it
Board meetings are generally the last Thursday of most months
Check the Homer Index for specific times and locations


Share
Share your family's history with others by donating items for display and for our archives


Membership
Support us with a membership:

Individual memberships

$12 per person
$5 for seniors over 62

Life memberships

$100 for one person and $50 for each additional family member


Contact …
Donna Scudder (517) 568-3920 or via the Contact form on this website