Events Calendar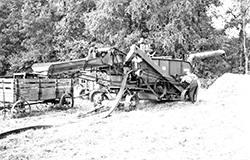 This antique thresher, demonstrated at Fall Festival time, keeps alive the community's agricultural heritage
The Homer Historical Society annually holds three major events: the Herb Workshop; the Car and Truck Show; and the Fall Festival. Watch this page for other special activities and events.
For further information, contact the Homer Historical Society via this website or by mail at
Homer Historical Society
P.O. Box 146
Homer, MI 49245
Or you may call Donna Scudder at (517) 568•3920 …

Annual Fall Festival—the 43rd Annual!
Date

Saturday, September 22, 2018

Location

Blair Historical Farm, one mile east of Homer on M-60

Details

The Homer Historical Society's 43rd annual Fall Festival will be held at Blair Historical Farm, 26445 M-60 East in Homer. Visit the pioneer family farm with additional historic buildings, and step back in time to when the area was being developed. Enjoy demonstrations, crafts, farm equipment and antique engine displays, music and great food including Blair Farm apple butter and corn pancakes.

Time

11:00

am

to 4:30

pm

Press Release

Download* the press release …

More Info?

Learn more …

More Info2?

For more information please contact Dee Camp using the Contact Form on this website. Be sure to include "Fall Festival" in your query.
View photos from the Fall Festival 2017 …
View photos from the Fall Festival 2016 …
Herb Workshop—the 27th Annual!
Date

2019, TBA

Location

Time

More Info?




back to top

Annual Car and Truck Show—the 19th Annual!
Date

2019, TBA

Location

Blair Historical Farm, one mile east of Homer on M-60

Time

Details

The Homer Historical Society's 19th annual car and truck show will be at Blair Historical Farm, 26445 M-60 East in Homer. from 9

am

to 3

pm

. All makes, models and years of cars and trucks can be shown.

Press Release

More Info?

For more information please contact Christine Miller using the Contact Form on this website. Be sure to include "Car and Truck Show" in your query.

back to top

* Adobe Reader is required to open and view the downloaded press release. Depending upon your browser, the downloaded report will either open in a new window or be downloaded directly to you computer. You may then read it, print it, and/or save it to you computer.

back to top