Annual Fall Festival
The Homer Historical Society Fall Festival has been the organization's major event drawing visitors from miles around since it began in 1976. Planning goes on all year for activities and displays to showcase local history and pioneer farm life. The 2018 Fall Festival at Blair Historical Farm will be Saturday, September 22, and historic barns will be the featured display.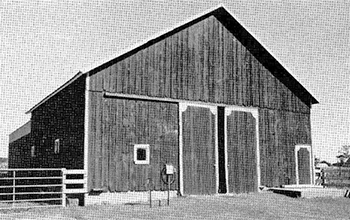 The photo shown is a traditional Dutch Barn taken from the Dutch Barn Preservation Society website. Learn more about Dutch Barns and the work of this society at their website.
Old wooden barns generate a sense of tradition and rural life, and they were essential to farm life when Albert Blair built his farm house in 1875 east of Homer on the road we now call M-60. As young women in the early 1900s his daughters, Maude and Bess Blair, had a thriving silkworm industry in an upstairs bedroom of the farm house in order to make enough money build their barn in 1910.
There are many types of old barns: Dutch barns built by early settlers from New York state westward, crib barns significant to American agriculture, round barns built by the Shakers, and the list goes on. Many of the oldest barns have already fallen apart, and others have deteriorated as they are no longer needed. The Historical Society is working hard to gather as many photographs as possible of old barn types in this part of the state so the pictures and the stories that go with them can be shared now and in the future.
Anyone with one or several barn photographs they would like to loan for the Fall Festival is asked to contact Donna Scudder via this website or call her at 517-568-3920. Information about the barns is also appreciated. Facts such as barn style, age, construction, or a family story related to the barn would also be useful for the display.
Return to the EVENTS page